"IF YOU ARE TECH LOVER LIVING IN NEPAL THEN HERE IS GREAT NEWS FOR YOU"
Hey there, here is great news for you because Nepal's Largest First Ever AI Expo is on the way.
Do you know company named as Fusemachines, No then this is a company that started from the founder & CEO Dr Sameer Maskey, a professor at Columbia University, with a sortie to put AI in everyone's hands by education, software & services.
After its inception in 2011, the company has successfully provided its products and services to a myriad of industries.
The company Fusemachines, together with (AID) Artificial Intelligence for Development has announced to launch the largest AI Expo in Nepal termed as – AI Expo 2019.
This expo will take place on 24th August at Soaltee Crowne Plaza, Kathmandu.
Nepal's Largest, First Ever AI Expo – 2019
The AI Expo 2019 intends to assist the vision of providing students, fans, and experts with free training and hands-on experiences on applied AI.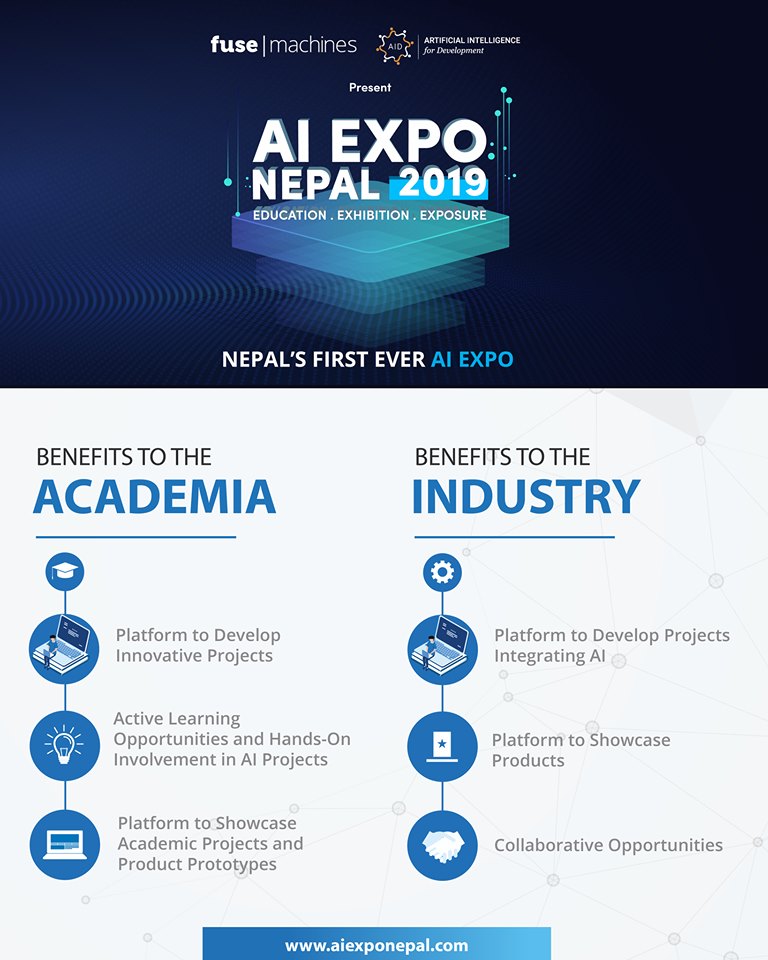 They will also get mentorship from experts, a platform to create AI products, win different prizes, and explore other benefits.
Artificial Intelligence for Development (AID) as being a research and development organization. It has been focusing on bringing Artificial Intelligence to the existing community for solving problems and delivering a positive impact on society.
Fusemachines has been investing its forces for the democratization of AI building different opportunities for youth to learn AI and have their ideas and discovery trained, developed and recognized.
More Info About The Expo
The participators will learn in detail about AI and its contemporary advancements and usages. Together with this, they will also cooperate with students, AI experts, professionals, and domain experts alike to build some viable technological models.
(In simple words, you will be trained in AI and hopefully, by the end of the training, you'll become competent enough to create a demo)
Sameer Maskey, founder and CEO of Fusemachines said, 'Events like AI Expo 2019 will encourage participants to understand AI, and help them network and collaborate with each other to build AI-powered prototypes. Students demonstrating their innovations through a national exhibition like AI Expo would help to address the prevalent problems that exist in the social as well as the national level and leverage AI for communal development.